If you're shopping for a new air conditioner, you may wonder if you should purchase a 14.3-SEER2 or a more energy-efficient 16.2+ SEER2 system. What is the difference between SEER and SEER2 ratings, and why is 14.3 the lowest SEER2 rating you can get in Texas?
There are SEER and SEER2 ratings. Both stand for Seasonal Energy Efficiency Ratios, and they measure how efficient an air conditioner is at cooling your house while consuming the least energy. The main difference between the two is how the ratings are tested.
Current SEER rating testing procedures for HVAC products do not match real-world operating conditions, which the Department of Energy wants to change. In 2023, testing conditions will consider how ductwork and external static pressure affects HVAC systems to more accurately reflect real-world application.
To meet new testing requirements, manufacturers must redesign all AC and heat pump systems by January 2023, even if they meet current SEER standards. So, all air conditioners manufactured in 2023 will have a SEER2 rating instead as the next evolution of efficiency grading.
Generally, industry professionals recommend installing a higher-efficiency air conditioner as it will save you money on operating costs in the long run. To give more context about which SEER2 rating to choose in San Marcos, TX and the surrounding areas, we'll answer the following questions:
Why is 14.3 the lowest SEER2 rating in Texas?
Are the energy savings from a 16.2-SEER2 AC worth it?
What other benefits does a 16.2-SEER2 AC have
---
Get the Right SEER2 Rating for Your AC
Get the right AC SEER2 rating for your needs and budget with Reliable Air. For over 25 years, we've provided homeowners in San Marcos, TX and the surrounding areas with transparent AC estimates and installations, typically within a few days. Many times, we can get to you the same day you call.
Call us at (512) 580-8837 or book with us below for 5-star service.
Why Is 14.3 the Lowest SEER2 Rating in Texas?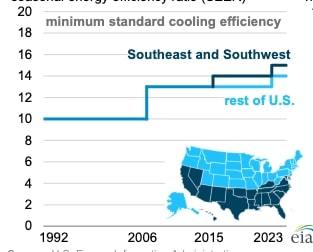 Researching SEER2 ratings can be confusing. Why do some sources say that 13.4 is the lowest SEER2 rating you can get, while others say 14.3? It comes down to regional minimum federal requirements.
Texas and other Southeast states require residential central air conditioners to have a SEER2 rating of 14.3, which equates to a SEER rating of 15. For comparison, the minimum standard for the Southeast in 2022 was a SEER rating of 14.
In contrast, Northern states require residential central air conditioners to have a SEER2 rating of 13.4 as they need less cooling efficiency due to lower usage, which equates to a current SEER rating of 14.
Essentially, any air conditioner you buy in any state starting in 2023 will be more efficient than the least efficient air conditioner you can buy in 2022. SEER2 ratings are all lower than old SEER ratings by 4.5% but are more energy efficient as they have more effective testing procedures.
The bottom line: If you're looking to buy a new air conditioner for your Texas home from 2023 onward, the lowest efficiency rating you can purchase and install is a SEER2 rating of 14.3, with the highest rating around 21.5+.
Are the Energy Savings of a 16.2-SEER2 AC Worth It?
The HVAC industry classifies a high-energy air conditioner as having a SEER2 rating of at least 16.2+, which equates to a SEER rating of 17.
Higher SEER2 ratings cost more upfront to install, but they can save you money over time in the form of lower energy bills. The biggest question on your mind is probably whether the long-term savings from a high-SEER2 system (16.2+) will pay for the higher installation cost.
In our area, the answer is yes. The savings from a high-SEER2 system will typically pay for the difference in upfront cost. We recommend going for a 16.2-SEER system over a 14.3-SEER system when homeowners can afford to do so.
According to a SEER2 energy savings calculator, a 16.2-SEER2 AC will save you about 11.76% per year more than a 14.3-SEER2 AC. In terms of dollars, that can really add up!
Other factors that can affect your estimated energy savings include:
How often is your AC maintained
The condition of your home's ductwork
The insulation levels of your home
What temperatures that you set your thermostat to
And much more
It's best to consult with a trained AC professional to receive a detailed, accurate recommendation for your home.
What Other Benefits Does a 16.2-SEER2 AC Have?
Below are some other benefits that come from investing in a 16.2-SEER2 system:
Increased home comfort: Though not always the case, high-SEER2 systems generally have advanced equipment like a variable-speed blower or a two-stage compressor. These features help you fight humidity and reduce your home's hot and cold spots.
Greener home: 16.2-SEER2 systems are more environmentally friendly than 14.3-SEER2 ACs because they consume less energy.
---
Rely on Reliable Air To Help You Choose Between 14.3 and 16.2 SEER2 Air Conditioners
Every budget and home is different, so providing general rules of thumb on which SEER2 rating you should get is difficult. If you want a trained professional to crunch the numbers for you and help you choose the right air conditioner for your home, we can help.
Homeowners in San Marcos, TX and the surrounding areas rely on Reliable Air's Comfort Advisors to give honest recommendations and upfront pricing for all air conditioner installations, regardless of SEER rating. We also provide flexible financing options.
Call us at (512) 580-8837 or schedule below to book 5-star service.