In San Marcos, TX and the surrounding areas, installing a new central air conditioner ranges from $5,000 to $10,000+. Meanwhile, installing a ductless (mini-split) air conditioner costs $3,900 to $10,000+. Most homeowners pay around $7,000-$9,000 on average for an air conditioner.
Wondering why the price varies? Let's explore the factors that will affect the price of your installation:
Air conditioner size & number of rooms you want cooled
Air conditioner efficiency & cost savings
Feature upgrades & installation considerations
Air conditioner warranties
HVAC contractor you hire
---
Want a New Central or Ductless AC for Your San Marcos Home?
Contact Reliable Air! We provide free quotes for central and ductless AC installations in San Marcos, TX and the surrounding areas. For the past 26 years, homeowners have relied on us to provide them with high-quality HVAC service by trained technicians. We also offer flexible financing options.
You can book a 2-hour appointment window with us by calling (512) 396-8183 or scheduling below. Come check out why we have hundreds of 5-star reviews!
Air Conditioner Size & Number of Rooms You Want Cooled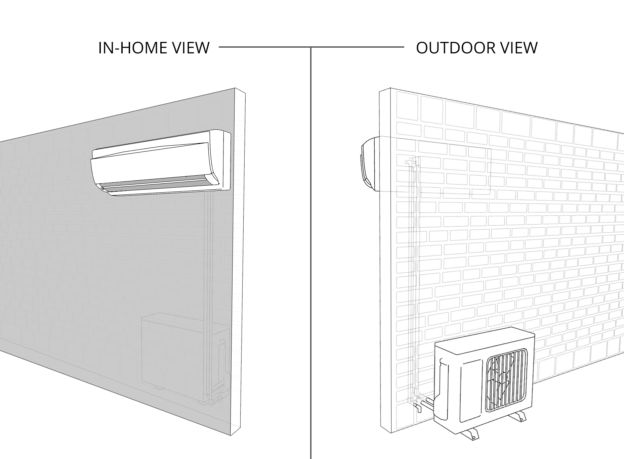 The bigger the central or ductless air conditioner, the more expensive it will be to install.
When industry professionals talk about an AC's size, they're not talking about its physical dimensions but the tonnage (tons). Most residential units range from 1.5 to 5 tons in size, including half-ton increments such as 2.5 or 3.5. Most Texas homeowners will have a 3-ton air conditioner.
You can also measure air conditioners in British Thermal Units (BTUs), which is the cooling output of the AC. The higher the BTU output, the more expensive it will be to install.
Bigger ACs aren't necessarily better. An oversized AC will cool your home quickly and then immediately shut off. This short cycling leads to higher energy bills and more wear and tear on internal parts.
In contrast, an undersized air conditioner will struggle to cool your home and run non-stop to compensate, leading to higher energy bills and more worn-out parts.
To get an air conditioner size that fits your home's needs perfectly, contact an HVAC professional. A technician has the right tools and knowledge to perform a cooling load calculation and provide an optimal size recommendation. The calculation considers the following factors
Number of rooms in your home
Number of people living at home
Number of windows and doors
Orientation of the home (i.e., east-facing, north-facing, etc.)
The quality of your home's insulation
The quality of your home's existing ductwork
The landscape of your home (do trees surround the house?)
The square footage of your home
Height of the ceilings
Type of flooring
And much more
For ductless air conditioners, you also need to consider how many rooms you want to be cooled. A ductless system requires an indoor unit and an outdoor unit. Each room you want to have cooled needs its own indoor unit. One outdoor unit can service up to eight indoor units. If you want numerous rooms cooled, the installation cost will be greater.
Air Conditioner Efficiency & Cost Savings
The next factor influencing installation price is AC efficiency. More efficient air conditioners will be more expensive to install.
Central and ductless air conditioner efficiency is measured by Seasonal Energy Efficiency Ratio (SEER2). The higher the SEER2 rating, the more efficient the AC. Most residential air conditioner units in Texas range from 14.3 (the minimum required by federal law) to 21.5 in SEER2 ratings.
Although they are more expensive upfront, a higher-SEER2 (16.2) air conditioner consumes less energy, lowering your monthly electricity bill. According to the National Renewable Laboratory, a more efficient air conditioner can save you 20-40% on your cooling costs.
When the average electricity bill is around $150-$160/month in Central Texas during the summer months, any reduction in operating costs can be a relief. The Maguire Energy Institute at SMU predicts that energy bills can increase 50-70% in the next few years, with air conditioning taking up 27% of the energy expenditure.
Beyond cost savings, higher-SEER2 air conditioners come with advanced features like 2-stage or variable-speed compressors, which can decrease the humidity in your home and provide more even temperatures throughout your home so that there are fewer cold or hot spots.
Consult an HVAC professional to know if a high-SEER2 air conditioner is worth the higher upfront cost.
Feature Upgrades & Installation Considerations
Adding comfort and convenience features to your air conditioner will upgrade its performance but will add to the installation cost. Some common feature upgrades are:
Programmable & smart thermostats: These thermostats allow you to schedule and control how often your AC runs during the day, saving you money on your energy bills. For example, the AC will reduce its temperature when you're at work. Additionally, you can control smart thermostats remotely via your smartphone for convenient temperature adjustments.
Air quality features: Integrating UV air purifiers, high-quality filters, or dehumidifiers with your air conditioner will improve your home's air quality.
Noise-reduction features: Don't want a loud AC? Dampening strips, mounts/extra insulation for the compressor, and noise-reducing fan blades will make your AC quieter.
Other add-on features include:
Adjustable airflow
Multi-speed fans
The installation cost will increase if your HVAC contractor needs to make any adjustments to your home, such as:
Upgrading your home's electrical system to accommodate the air conditioning system
Running conduit (electrical and refrigerant) lines in hard-to-access places like attics or basements
Adding longer conduit lines because the ductless AC outdoor unit is far away from the indoor unit
Air Conditioner Warranties
All air conditioner manufacturers offer a limited warranty when you purchase one of their systems. It covers critical AC components that fail due to a manufacturing error. Typically, they last 7-20 years, depending on the manufacturer. You can obtain an extended warranty to extend the length of your warranty to 10-25 years and for peace of mind, but it will add to your overall installation cost.
The HVAC contractor who installs your AC provides a limited parts warranty. It covers any part repairs or replacements due to an installation error for 1-2 years. An extended one can last for 5+ years, depending on the contractor. The added coverage means you'll pay more upfront.
HVAC Contractor You Hire
Not all San Marcos contractors charge the same amount for installation services. Generally, more experienced contractors charge more for higher-quality work. These contractors will install your new system correctly—the first time around. You don't want to worry about paying for expensive redos, repairs, or decreased efficiency down the line.
To find a high-quality contractor, look for the following:
They have been in business for at least 10 years
They have licensing and insurance
They provide you with an upfront estimate in writing; you don't want any surprises with the final bill
They have good customer reviews on sites like Yelp and Google
Book a Free Quote To Install a Central or Ductless AC in Your San Marcos Home
San Marcos homeowners trust Reliable Air technicians to install their ductless or central air conditioners correctly the first time around. We have convenient 2-hour appointment windows for you to book a free, in-home quote. Our highly-skilled technicians will do the calculations needed to determine the right size and type of AC system for your home, cooling needs, and budget. We will also provide you with upfront pricing and financing options.
All air conditioner installations come with a 100% satisfaction guarantee. Call us at (512) 580-8837 or schedule below to enjoy 5-star service!