According to the Department of Energy, you could be paying hundreds of dollars more than you need to for heating and cooling each year. Leaking ducts lose the air you've already paid for to bring your home to a comfortable temperature, making your energy bills more expensive.
The average cost of ductwork repairs and replacements in the San Marcos, TX area starts at $250 and can quickly exceed $1,250 for installation.
Many factors can impact the final cost of duct replacements, including:
Type of ductwork installation
Amount of ductwork needed
Accessibility of ducts
Material of ducts
The HVAC contractor you hire
This blog looks at each category to explain why and how changes can affect your project price.
Contact Reliable Air today for fast and convenient scheduling with a company trusted by San Marcos homeowners. Our service always comes with a 100% satisfaction guarantee. We provide efficient and customized ductwork estimates. Call us at (512) 580-8837 to schedule with us and experience our 5-star service.
Type of Ductwork Installation
The type of ductwork you need to install can dramatically affect the final price. Let's look at two of the most common installation types and explore what makes each an affordable option.
New construction for a home without ductwork
Replacing older, out-of-date ductwork
New Construction for a Home Without Ductwork
Retrofitting an older home to include ductwork is a very complicated process. When ductwork isn't in the original building plans, adding it can ruin the architectural lines of a home and include very costly cosmetic pieces to disguise the new ducts.
Homes designed with ducts in mind often run the ductwork through conditioned spaces — living rooms, bedrooms, bathrooms, etc. — to minimize any loss due to duct leaks. Even the most well-maintained ducts lose some air while it travels through the system, but when the leak is into an area that needs conditioned air, it doesn't cost the homeowner extra.
When adding ductwork, contractors may have limited options for placement during a retrofit, putting ducts in attics, basements, or crawl spaces to keep them hidden.
The US Department of Energy recommends avoiding ductwork installation in vented areas that don't need air conditioning to reduce your energy costs for heating and cooling. When ducts are installed through conditioned areas, you still gain 100% of the benefits of that warmed or cooled
air. When the same air travels through spaces without insulation, you could lose all of the benefits of any air that leaks.
Replacing Older, Out of Date Ductwork
It may seem counter-intuitive, but replacing existing ducts is often more expensive than installing new ones. However, that only applies if you don't need any home modifications for the new installation.
Why? Because when you replace existing ducts, you must haul away the old ductwork, which adds the cost of demolition to the total. In contrast, adding ductwork often means cutting holes in walls and creating enclosures from scratch, making new installations much more expensive.
Amount of Ductwork Needed
The more ductwork you need to buy, the more it will cost. That's pretty straightforward, but square footage doesn't directly determine how much ductwork you need. The size of your home is a factor, but layout often determines the length of the ducts you'll need to deliver heating and
cooling effectively.
Your area's climate can also play a role in determining how much ductwork you need. If temperatures are generally more moderate, you may not need to place as many vents or extend the ductwork to every corner to achieve reasonable coverage.
The size of the ducts you need can also impact performance and price. Since ductwork prices are tied directly to material costs, larger ducts cost more to install. For the best results, have an HVAC professional from Reliable Air take a look at your home and provide customer recommendations.
Accessibility of Ducts
If your ducts are hard to get to, it can limit access and extend the time it takes to finish an installation. Ducts in crawlspaces or hidden behind walls might take more hours of labor to get to, replace, and then clean up after. The easier it is to reach your ducts, the less it will cost to
repair or replace them.
Material of Ducts
Ducts can be built using a wide variety of materials but generally fall into one of two categories:
Flexible materials: This category includes options such as polyester and aluminum ducts, some of the most affordable options. Poor insulation and reduced energy efficiency are not major issues in conditioned areas.
Rigid ductwork: Fiberglass and galvanized steel are rigid materials often used for ducts. These options are more insulated than flexible alternatives but also significantly more expensive.
In general, a ductwork system uses some combination of both flexible and rigid materials to create a long-lasting installation. With the right maintenance, ductwork can last for decades, with rigid ducts taking the lead for longevity. Consult a professional to determine which type will deliver the best value for your home.
The HVAC Contractor You Hire
The final factor affecting the cost of installing and replacing ducts in San Marcos is the company you choose to do the work. Experienced HVAC professionals with excellent service guarantees and great customer service typically cost more than an unknown company just starting out.
Any time you need work done on your home, be sure that the contractor you hire is:
Licensed and insured
Experienced with the type of work you need
Willing to provide references
Able to give you a written estimate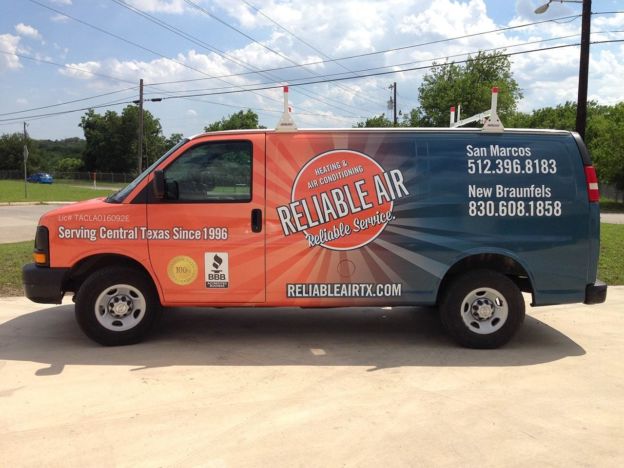 Need new ductwork installed? Work with our team at Reliable Air for experienced service and high-quality work. Since 1996, we've built a 5-star reputation in San Marcos, TX and the surrounding areas for our reliable HVAC technicians. We get the job done right the first time so
you can stop leaking money out of your ductwork. We provide same-day appointments and 2-hour windows for your duct replacement and installation.