Trying to decide whether you should get a ductless AC or a central AC system for your Texas home? A system's lifespan is one of the most important factors to consider before buying, so you might be wondering which system will last the longest?
According to the U.S. Department of Energy, a central AC system can last about 15 to 20 years, while a ductless AC (also called a mini-split system) can last 20 or more years.
That said, even though a ductless AC system is likely to last longer, the lifespan of any AC system will depend on the following factors:
The quality of installation service
Sizing of the AC system
Regular upkeep practices
Regardless of whether you choose a ductless or central AC, paying attention to these factors can help you improve the lifespan of either type of system. So let's take a closer look at them.
---
Want a professional recommendation for your Texas home? Contact Reliable Air. We promise to provide honest and no-obligation feedback about which type of AC system is best for your home and your budget. Contact us today
---
The quality of installation service
Many common AC problems result from a faulty installation. These problems can shorten your AC's lifespan.
Proper installation is essential for any AC system to perform at its best and last as long as possible. Contractor errors can easily contribute to a shortened AC lifespan, even if the air conditioner seems to be working fine initially.
Here are some of the most common AC installation errors that can cause severe problems down the road: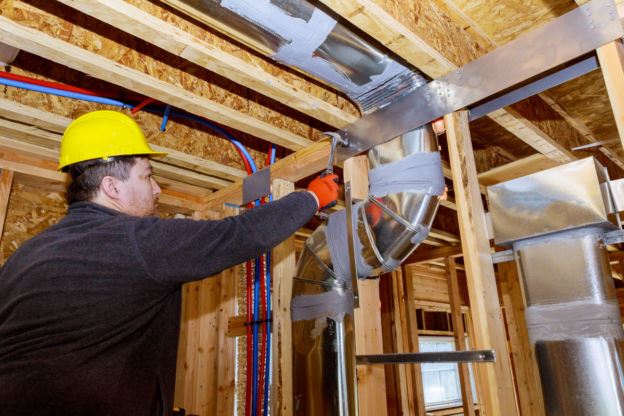 Improper ductwork installation: If the installed ductwork restricts airflow, your AC may feel like it's not blowing any cold air. The more turns and bends the air has to travel through, the weaker the airflow is likely to be. Also, if air duct seams aren't airtight, there will be cracks and gaps, which will reduce your AC's efficiency and result in poor air circulation.
AC components are not level: If a ductless AC's air handler is not mounted level, it won't correctly drain out condensation, which could result in water damage. Likewise, if the outside unit of a central AC is not sitting level, it will vibrate more, which increases wear and tear on the equipment. It can also cause drainage issues if the tilt affects the drain pan.
Undercharged or overcharged refrigerant: The amount of refrigerant in the system should match the manufacturer's specifications. Otherwise, the AC won't cool your home as well as it should, and it will have to work harder and longer.
To extend the lifespan of your AC: Hire an experienced Texas HVAC contractor to install your ductless or central AC system. Air conditioner manufacturers make high-quality products built to last, and combining that with a quality installation will help ensure your AC lasts as long as possible.
Ensure that the contractor is licensed in Texas, has plenty of positive reviews from other customers, and has years of experience in the industry. Also, request an upfront written quote for installation service.
Sizing of the AC system
An improperly sized ductless or central AC system will have to work harder to cool your home, which can reduce its lifespan.
When it comes to air conditioners, bigger is not always better (even in Texas). Whether you choose a ductless mini-split system or a central AC system, it should be the proper size for your home.
NOTE: The size of an air conditioner doesn't refer to the physical dimensions of the AC unit. Instead, it means the AC's cooling capacity, measured in British Thermal Units (BTUs). An HVAC technician can help you determine the best size AC for your living space.
An air conditioner that's the right size for your home will be more efficient and last longer. On the other hand, if it's too large or too small for your home, you'll likely have issues with it.
If your AC system is too small, it will struggle to cool your home properly and will constantly run, resulting in excessive wear and tear on your AC's mechanical parts. This is especially common during those hot Texas summers.
Likewise, an oversized AC system will cost more upfront, be less efficient and will increase your energy bills.
To extend the lifespan of your AC: Beware of any contractors that recommend AC sizing based on your home's square footage alone. Instead, hire an experienced contractor to help you determine what size AC you need.
A high-quality contractor will perform a load calculation (a sizing method approved by the Air Conditioning Contractor's Association of America) to determine the correct size for your home's HVAC equipment. A load calculation looks at the following factors:
The wall, ceiling, window, and floor area of your home
The type and quality of insulation in your home
The building envelope (the separation of the interior and exterior of your home)
The amount of air duct leakage in your home
The orientation of your home
The number of people living in your home
Regular upkeep practices
Following a regular upkeep schedule for your AC system can prolong the life of your equipment in Texas.
Without regular upkeep, mechanical parts can become very dirty, and they may not work properly. You may also have to deal with more frequent and expensive repairs, less efficient equipment and more expensive energy bills.
To extend the lifespan of your AC: The U.S. Department of Energy recommends keeping up with the following upkeep tasks:
Invest in regular HVAC tune-ups: Hire an experienced HVAC contractor to inspect your AC equipment each spring to make sure it's operable.
Clean or replace filters often: Replace your AC filter about every quarter or monthly during peak seasons.
Seal any duct leaks: Hire an HVAC contractor to seal your ducts to control humidity, dust and maintain proper airflow.
Check for disconnected or leaky ductwork: Have an experienced contractor inspect your ductwork to make sure conditioned air gets to its intended destination.
Keep the area around your outdoor AC unit clean: Clear away any weeds or debris so air can freely flow around the unit.
---
Need help from a professional? Contact Reliable Air!
We've been keeping Texas homeowners cool for over 20 years. Our experienced and friendly technicians are available to provide honest and trustworthy recommendations based on your home, your needs and your budget. Let us help you choose an AC system for your home and properly maintain it for the best results! Contact us today!