If you're in the market for a new cooling system, you may be trying to decide between a heat pump and a central air conditioner.
As far as their cooling capacities go, heat pumps and ACs are the same. They both keep your home cool and comfortable in warm summer months.
The difference is that heat pumps can also heat your home during colder winter months, while air conditioners cannot. That means, if you have an AC, you'll need to pair it with a furnace or other heating system.
So, which system is best for homes in Texas? Because temperatures in Texas rarely drop below freezing, heat pumps work well in Texas' climate. But there are certain scenarios where replacing an air conditioner is more cost-effective than installing a new heat pump.
To help you better understand your options and, hopefully, help you decide which system is best for your home, we'll go over the following scenarios:
You have a natural gas furnace that's in good condition
You have an electric furnace
You prefer being as warm as possible on cold days
But first, we'll explain how each system works.
---
Want a professional recommendation on which heating system is best for your Texas home? Contact Reliable Air. We promise to provide honest and no-obligation feedback about which type of central AC system or heat pump system is best to install for your home and your budget. Contact us today
---
Heat Pumps vs. Air Conditioners
Both systems absorb heat from inside your house and transfer it outdoors via a substance called refrigerant to cool your home. This cycle continues until the thermostat reaches your desired temperature. As a cooling system, both systems are highly efficient and effective.
Heat pumps heat your home by reversing this process, absorbing heat outdoors, and moving it inside your home. Because heat pumps move heat and don't create it, they lose effectiveness when temperatures drop below freezing because it takes more energy to move heat inside continually. That said, heat pumps are an energy-efficient and cost-saving system for moderate climates but are not ideal for super cold temperatures. It will need to be accompanied by a furnace or other heating system.
Are you installing an HVAC system for the first time?
Did you just build a new home in Texas? Are you adding an HVAC system to your home for the first time? If so, we highly recommend contacting a reputable HVAC contractor, like Reliable Air, to give you a professional opinion so you can make the best choice based on your family's budget and individual heating preferences.
You Have a Natural Gas Furnace That's in Good Condition
If you already have a natural gas furnace that's in good condition, you're better off installing an AC unit to cool your home in the summer.
An AC is less expensive to install than a heat pump. So, if your furnace is new or in good working condition, it doesn't make sense to replace it with a heat pump when you could pay less to install an AC.
Additionally, heat pumps rely on electricity to heat your home. Since electricity is a more expensive fuel source than natural gas, you'll save money over time by operating your gas furnace in the winter instead of a heat pump.
The bottom line? If you already have a gas furnace, it's probably best to stick with that instead of buying a new heat pump.
If your furnace is old, inefficient, or not working anymore, and you also need a cooling system, you're looking at a different scenario. While the upfront cost is greater for a heat pump than an air conditioner unit alone, a heat pump will likely cost less than purchasing and installing an air conditioner and a furnace.
You Have an Electric Furnace
If you have an electric furnace and want to install a new cooling system, we recommend installing a heat pump to replace both your electric furnace and your AC.
Electric furnaces are costly to operate and cost about 50% more to operate than a heat pump.
Operational costs are only one factor to consider. You'll also need to consider:
The upfront installation costs
Your family's comfort preferences
How long you're going to live in your house (to see if the long-term savings of a heat pump is worth it to you)
Because of those additional factors, if you have an electric furnace, we recommend you consult with an HVAC contractor to determine whether you should purchase an AC or heat pump.
You Prefer Being As Warm as Possible on Cold Days
In Texas, temperatures rarely drop below 40° F, even in the winter. However, some people enjoy the extra warm air that furnaces provide. So, if that sounds like you, you may prefer a furnace over a heat pump.
Many homeowners also prefer gas furnaces to heat pumps because heat pumps only push out heat that's 90–95° F (when outdoor temperatures are above 40° F), and furnaces can deliver air between 120° and 125° F.
So, if you prefer being as warm as possible, you may want to stick with the AC/furnace combo.
Need Help From a Professional? Contact Reliable Air!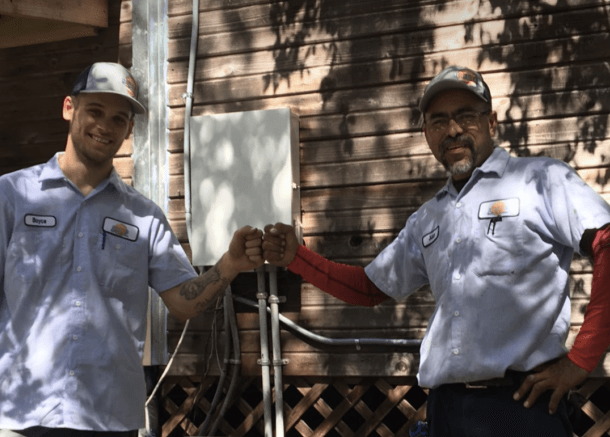 '
We've been keeping Texas homeowners cool for over 20 years. Our experienced and friendly technicians are available to provide honest and trustworthy recommendations based on your home, your needs, and your budget. Let us help you choose a central AC system or heat pump system for your home and properly maintain it for the best results! Contact us today!