Are you having trouble with your heater and think it's time to call in professional help? If so, you may be wondering how much a heater repair will cost you.
Without a professional HVAC technician inspecting and diagnosing the issue, it's impossible to give an exact price. However, heater repairs in San Marcos, TX, can range from $200 to over $1,500, with the average repair costing $350.
Not all repairs are created equal, hence the extensive price range. Many factors can impact the cost of your heater repair, including:
The age of your heater
The type of repairs needed
The validity of your warranties
The HVAC company you hire
To help you better understand what to expect regarding heater repair costs, we'll go over these factors in detail.
---
Need your heater repaired ASAP? Call Reliable Air today.
With same-day service and 2-hour scheduling windows, you'll get your heater repaired at a time that's convenient for you. Schedule an appointment with a click of a button or call us at (512) 580-8837. Schedule repair
---
The Age of Your Heater
The average lifespan of a heater is 15 years. So, if your heater is near that age or older, the cost of your repair could be higher. Furthermore, it may be time to consider replacing your heater rather than paying for costly repairs.
The older your heater is, the more likely it is that one or more critical (and expensive) parts of your heater will need to be repaired or replaced. And, depending on the type of repair, replacing your heating system altogether might make the most sense and be the most cost-effective solution.
Keep in mind; if your heater has used up 3/4th of its life expectancy, it's typically not recommended to spend more than 1/3rd the cost of a replacement heater on repair costs for an old system.
The Type of Repairs Needed
Along with the age of your heater, the type of repairs needed can significantly impact your repair costs because certain parts of your heater cost more to replace. In addition, the more labor-intensive your repair is, the more your repair will cost.
Like any other appliance, specific heater components are more affordable and straightforward to fix, while others aren't as easy and require more labor and materials, therefore costing more.
For example, a thermostat is not pricey and easy to repair. A faulty thermostat could just need a change of batteries or, at most, a replacement. On the other hand, a cracked heat exchanger is a more serious issue and can be expensive. To fix this type of problem, you'd need to order and install a new heat exchanger, which can take over 8 hours to install and cost around $2,000.
The Validity of Your Warranties
If you have a valid parts or labor warranty, your repair costs will be less expensive.
A parts warranty is issued through your heater manufacturer. Depending on the manufacturer, a parts warranty can last anywhere from 5 to 10 years from the installation date (or longer if you purchased an extended warranty).
Typical parts warranties cover the replacement cost of a part when the following conditions are met:
A licensed HVAC contractor has determined that a manufacturer's defect caused the part's failure.
The system is within the warranty's coverage time period. Manufacturers occasionally offer a longer warranty on a limited number of critical parts, such as the heat exchanger.
Some manufacturers only warrant their units to the original homeowner — others allow the warranty to transfer to the new owner when selling a house.
The company or contractor who installed your heater provides a labor warranty, covering the labor cost to repair your heater. To check the details of what your labor warranty offers and the validity of your labor warranty, reach out to the installer.
The HVAC Company You Hire
Often, more experienced and more reputable contractors charge more for their services.
While it may be tempting to hire a cheaper contractor to complete your heater repair, it's essential to consider the implications of doing so.
Opting to hire a cheaper contractor often means you're hiring someone with less experience. While you may pay less upfront for your repairs, you run the risk of that contractor misdiagnosing the issue or doing a poor job, resulting in repeat work that ends up costing you way more in time and money in the long run.
By hiring a high-quality HVAC professional, you're paying for peace of mind. Before you hire a contractor, we recommend double-checking the following:
They are licensed and insured.
They have great online reviews on sites like Google.
They provide upfront and honest written estimates.
They guarantee their work with a labor warranty.
Ready to Get Your Heater Repaired? Hire A Trusted Texas HVAC Contractor: Reliable Air.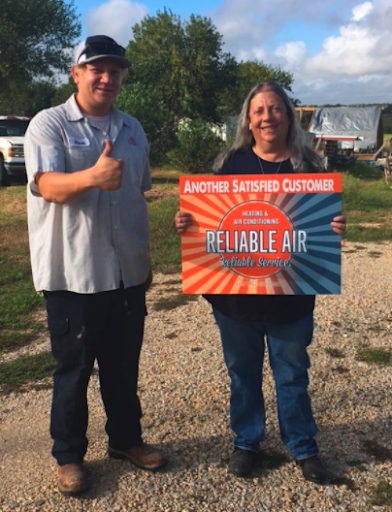 When you need a reliable heater repair, you want to hire a company that will do high-quality work—the first time around. For over 25 years, Texans have relied on Reliable Air to get the job done.
We continuously train our HVAC technicians and have a staff that stays with us for ten years on average. When you book us, you'll always hear a familiar voice on the phone or see a friendly face at your door.
Call us at (512) 580-8837 or contact us for an in-home diagnostic. Schedule repair
Related Articles: