When outside temperatures drop, your heater is sure to become one of the most important appliances in your Texas home. Because of this, it pays to know how successful your heater is running regularly.
If your heater requires frequent repairs and is driving up energy bills, it may be time to consider a replacement. At the same time, repairing your heater can be more cost-effective than replacing it with a brand-new one.
To help you choose whether to repair or replace your heater, let's take a look at some key factors that will impact your decision:
Repair vs. replacement costs
The age of your heater
Your heater's warranty status
Efficiency and comfort
Reliability
With winter in the air, it's vital to figure out whether to replace or repair your heater before it arrives. Below, we'll break down the factors that will help you make the best decision.
---
Looking for an expert opinion on whether to replace or repair your heater?
Contact Reliable Air, and we'll help you decide which option will save you time and money. With same-day service and 2-hour scheduling windows, we can have someone out to you in no time. Call us at (512) 580-8837 or schedule an appointment online today.
---
The Cost to Repair vs. the Cost to Replace
As a rule of thumb, when the cost to repair begins to outweigh the price of a new heater, you're better off with a replacement.
Minor heating system repairs can include general maintenance, like switching out air filters and replacing minor heater parts. And if your heater is still under warranty, you won't have to pay out-of-pocket to replace a significant part.
However, some major repairs (e.g., replacing the motor or heat exchanger) may not be worth the cost of parts and labor. You might be better off replacing the entire heating system.
The average cost to replace your heater in San Marcos is around $5,500, so you should consider upgrading your heater altogether if your repairs are more than half that.
At Reliable Air, our technicians provide honest advice based on your unique heating system, comfort preferences, and budget. If a minor heating repair will do, that's what we'll recommend. But if a replacement could save you more money down the line, we'll let you know all of your options to help you make the best possible decision.
The Age of Your Heater
The average heating system lifespan is around 15 to 20 years. But even with annual maintenance, any system over 15 years is bound to need frequent repairs. So if your repair costs are getting out of hand, you should consider replacing your system.
Moreover, with older systems, repairs are often temporary fixes, so you'll need to consider if the cost of repairing an older heater is worth it in the long term.
Aging heaters also have other frustrating problems, such as poor heating output and higher energy bills. Sometimes a tune-up visit will do the trick, but if you're shelling out more in repairs and maintenance than you feel your heater is worth, speak to a licensed HVAC technician about a new heating system installation.
At Reliable Air, we always provide free in-home estimates tailored to your unique needs and budget. Plus, we have stress-free financing options to help make your new heater more easily affordable.
Your Heater's Warranty Status
The warranty on your heating system can also help you decide whether to replace or repair your heater. Check its expiration date. If it's expired, you're probably better off with a new heating system. Otherwise, you'll be on the hook for major repairs, which could cost nearly the same as a brand-new heater.
If your heater is on its last leg, contact a technician to help you choose the right-sized replacement and give you accurate, to-the-penny installation estimates.
Efficiency and Comfort
A heater that works properly will distribute heat evenly throughout your Texas home. When it's older and needs fixing, you'll notice that it only heats in certain areas. If your system consistently fails to blow heat evenly in your home or repeatedly turns on and off, it may be time for a replacement.
The more work your heater has to do to blow air through the vents, the more your home's energy bill increases. And since heating your home already accounts for 29% of your utility bill, repairing older parts or replacing the system completely when it fails can save you money by lowering your energy bill and increasing your comfort during the winter season.
Reliability
The most important thing to consider is a working system. A non-operative heating system can make winters unbearable, cold, and frustrating. So if your heater has proven unreliable through constant repairs and breakdowns, it may be a good idea to look into a replacement. After all, your heating comfort is the most important factor!
---
Need Your Heater Replaced or Repaired? Contact Reliable Air!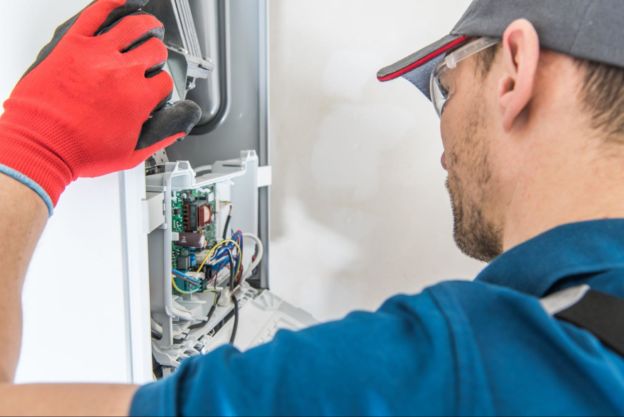 We know deciding whether to repair or replace your heater is a big decision. That's why we're here. Our experienced and friendly technicians are ready to provide you with an honest and trustworthy recommendation that fits your budget and home needs. We'll explain all the details of our heater repair and replacement installation process, so you can decide what's best for you. Call us today at (512) 580-8837!