Noise is just a part of daily life. Much of what you hear is filtered out as background noise, but other sounds instantly grab your attention. However, it's hard to ignore loud noises from your AC system. You may notice these noises as you walk by your outdoor unit or hear them from inside your home.
After hearing a concerning HVAC noise, what you hear could mean the difference between a fast AC repair and a more severe, expensive emergency repair call. If you hear any of the following noises coming from your outdoor air conditioning unit, it's time to call Reliable Air for same-day service:
Screeching
Banging
Buzzing
Hissing
We'll take a closer look at each of these noises and what may cause them. We'll also point out some potential fixes so that you know what you might expect for an AC repair in San Marcos, TX and the surrounding areas.
---
Need reliable service that you can trust?
When you need central AC repair fast, call Reliable Air at (512) 580-8837. Our 2-hour service windows and same-day appointments make quality AC service more convenient in San Marcos, Texas. We deliver the service you need without the all-day wait. Schedule Repair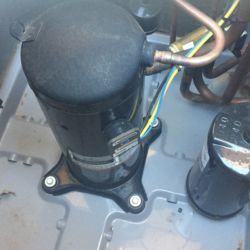 If you hear screeching noises from the outdoor unit when it's running, a bad compressor motor or a faulty outdoor fan motor is the culprit.
The fan motor and compression are the most likely culprits of screeching noises from an outdoor AC unit. For example, a failing fan may squeal or screech loudly and consistently and needs replacement. A compressor may typically let out a brief screech if too much pressure builds up in it when the AC starts up. However, a failing compressor that needs replacement makes consistent screeching noises.
The Solution
Call for AC repair as soon as you notice the screeching noise to save yourself from emergency calls. Your system can completely break down if the compressor or fan motor gives out. Both parts are critical for the AC system's operation. Screeching noises from either part indicate a deeper problem.
Banging Noises
You can usually trace banging noises from an outdoor AC unit to the compressor or the condenser fan. You may hear a bang when the springs inside the compressor start to wear out. They fail to provide adequate support for the compressor, allowing the part to bang against the unit's walls as it breaks down. If a condenser fan's part is loose, it will also knock against nearby parts.
The Solution:
You need to call a professional for prompt AC repair when you hear banging from an AC outdoor unit. The technician will determine the cause of the problem and repair or replace the loose, worn-out, or damaged part.
Buzzing Sounds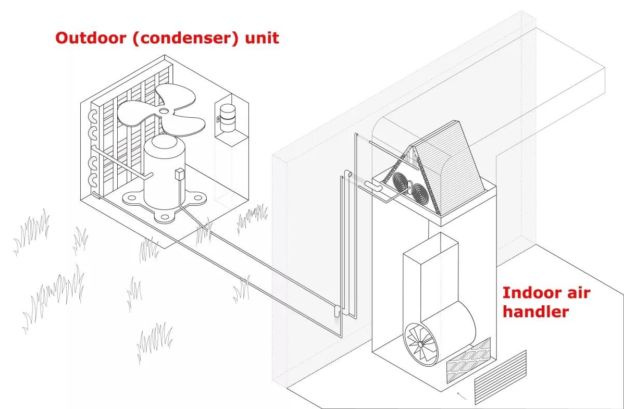 Buzzing is the tell-tale sign of an electrical problem in your outdoor AC unit. You may have frayed or loose electrical wires in your AC system. Or maybe a motor within the compressor or condenser fan may need to be replaced. You could also have a damaged capacitor or compressor.
The Solution:
You need an experienced HVAC technician to look at your unit's electrical components and precisely identify the problem. They can then provide the most cost-effective and efficient AC repair or part replacement to fix the issue quickly.
Hissing Sounds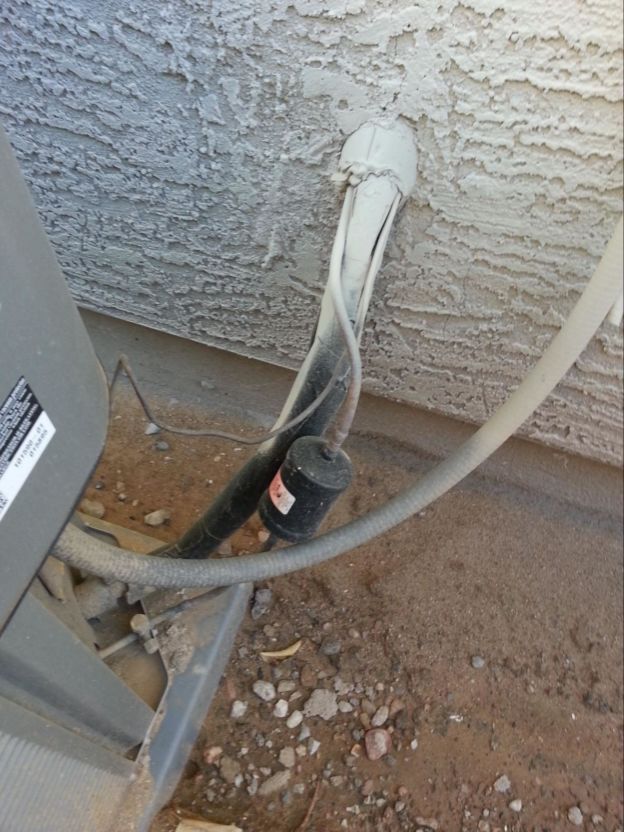 Hissing noises coming from an AC outdoor unit signify a refrigerant leak.
Refrigerant is a cold chemical agent in your indoor AC unit that absorbs heat from your home's air. It then continuously carries the heat from the indoor unit to the outdoor unit through refrigerant lines. The outdoor unit then dumps out the heat, producing enough chilled air to keep your home at your desired temperature. You should never run low on refrigerant unless there is a leak.
When there is a leak in the refrigerant lines, you may notice:
Warm air coming from your indoor vents
Hissing noises coming from your outdoor AC unit
Condensation or ice forming on the refrigerant lines
A chemical odor in the air
Higher energy bills than normal
The Solution:
You need a trained HVAC technician to inspect your system and identify the location of your refrigerant leak and any other possible problems. Your technician will find and fix the leak before topping off your refrigerant.
---
Do You Hear Loud Noises Coming From Your AC Outdoor Unit? Call Reliable Air.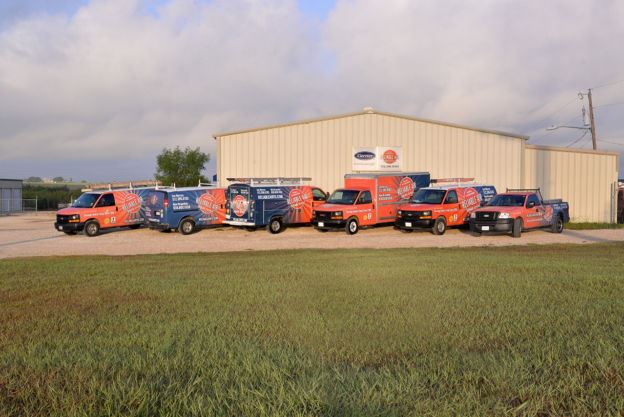 Don't ignore unusual sounds coming from your air conditioning system. Contact Reliable Air's highly-skilled professionals for same-day service and to discuss your AC repair options. We're known in the San Marcos area for getting the job done right the first time around with no costly repeat labor. With hundreds of 5-star customer reviews and our 100% satisfaction guarantee, Texans trust us to take care of their systems.
Call us at (512) 580-8837 or schedule below to restore your system's operation quickly.